People usually think that a documentary needs to represent reality, but that does not mean that everything has to be kept the way it is. As a cinematographer you need to understand how light works and how to make use of the already existing light that you have available on set. We tried to go for a naturalistic look, but that doesn't mean we didn't use any artificial lights.
The first thing I do before setting up any light is to have a look at what is already there. Are there any windows, is it a sunny or cloudy day and in the case of the Roller Dreams location, which lights are there already and can I control them? Usually I check all these things when going on a location visit or recce, to make an assessment of what the production needs. Next I will make a lighting plan, talk to the gaffer (head of lighting department) to see if they agree or have other ideas and then call up a rental place (in this case Light Unit in Amsterdam) to see if everything is available for the specific shooting date.
For most of the interviews we did for Women on a Roll we used the natural light that was available in the location and the Aputure LS 300x with the Light Dome II to create a very nice soft fill and eye-light. What is nice about this particular light is the fact that it is dimmable, it has the function to change color temperature and it is LED, which makes it a very versatile tool. I can quickly change the output and color to adapt to any situation. Sometimes it is better to match the color of a light to the surrounding lights and sometimes I do the opposite to create a color contrast between the foreground and the background.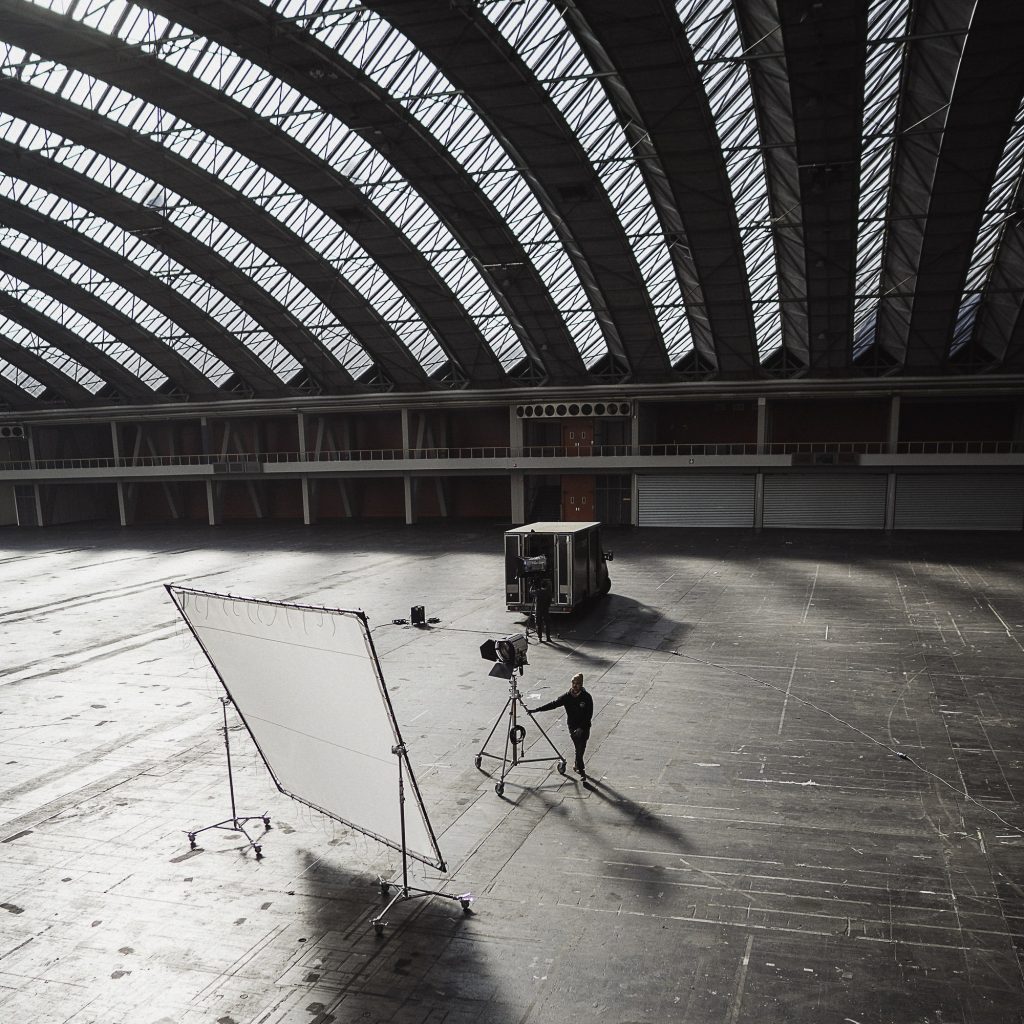 In the enormous RAI hall 1 location, it would be impossible to control the light coming in, since the roof is full of windows and so is the entire front side of the building. Having that in mind, it would take a really strong light to compete with the strong sunlight we had on the day of filming. The location provided us with 32 Amp power connection which is more then enough for a Arri M40 HMI, which creates a strong daylight (5600K) beam of light. Strong enough to diffuse the light by shining it through a 4x4 meters grid cloth, which is a basically a large sail which makes the light very nice and soft to light the talent. Another thing we did was to create a little twinkle in our interviewee's eyes was to put an Arri Skypanel S60-c with softbox and grid much closer to her, almost straight ahead. This also helped us to battle the strong sunlight that was coming from above, which was also a natural backlight for the talent. The only thing we did do was putting up a diffusion screen on a very high tripod to soften the sunlight hitting the back of her head.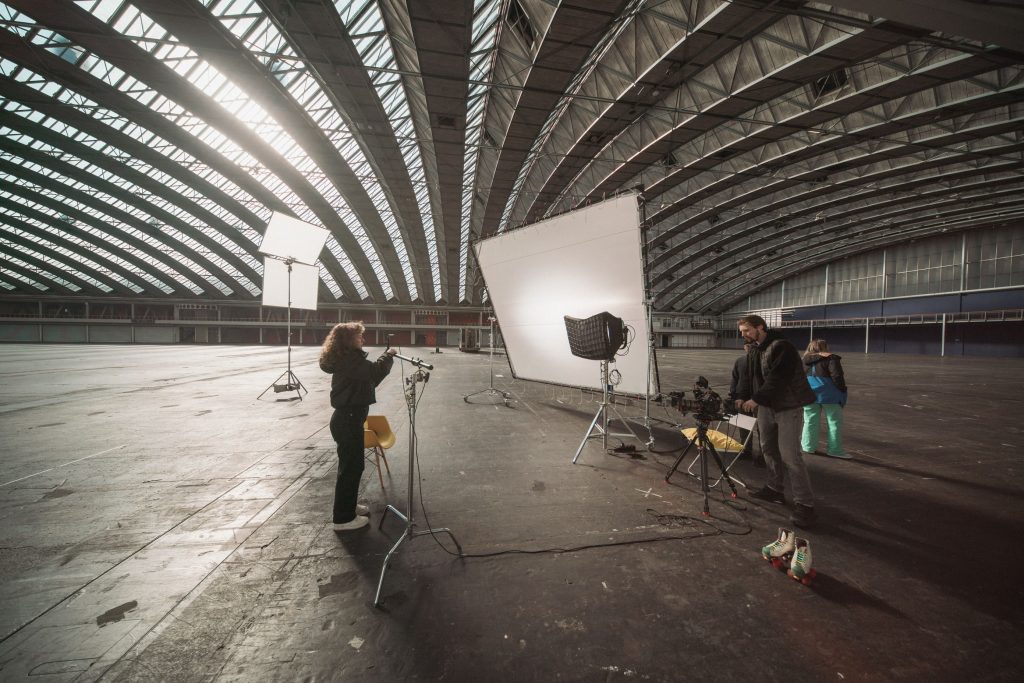 During the skating part in the RAI hall 1, we attached the Aputure LS 300x to the camera cart. This was possible because the Aputure lights can run on V-lock batteries so we could move freely without any cables attached. It gave a hint of light when the skater was close to us, but mostly she was lit by the sunlight coming in through the windows, which already looked beautiful.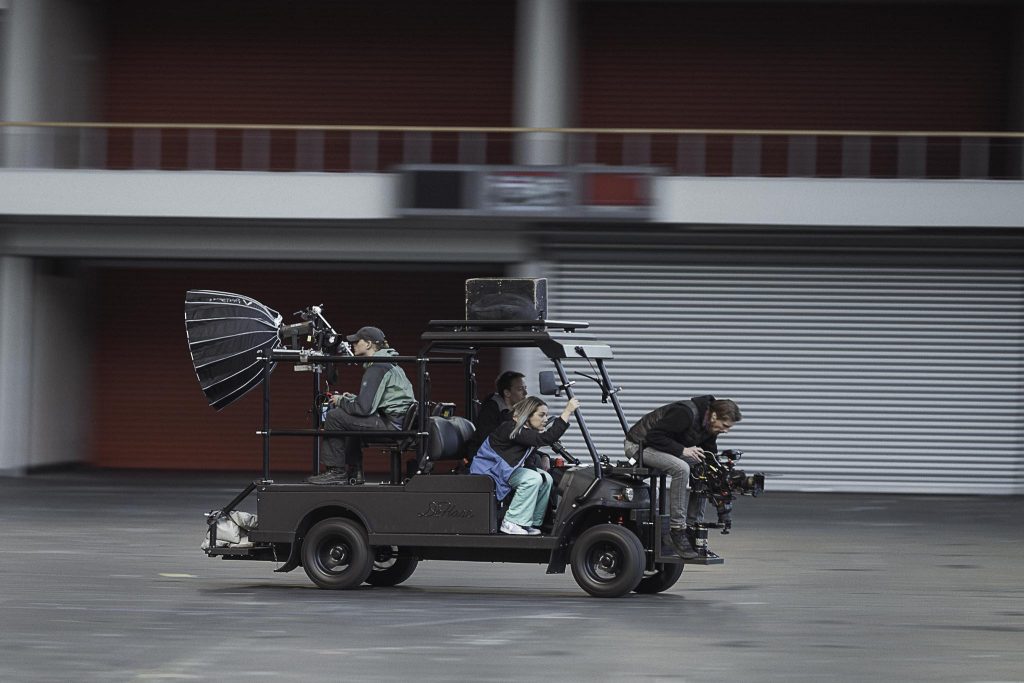 In Roller Dreams they already had a beautiful lighting setup, which gave a real rollerdisco feeling. Why change things when it's almost already perfect. We added only a Aputure 600X with the F10 Fresnel lens which we controlled ourselves to complement the existing party lights. We wanted to create a bit more of a theatershow feeling, by having a spotlight that kept gliding in and out of the shot (operated by the gaffer). This gives nice transitions between dark and light and makes more dynamic when the light is in the shot rather than keeping a light stationary.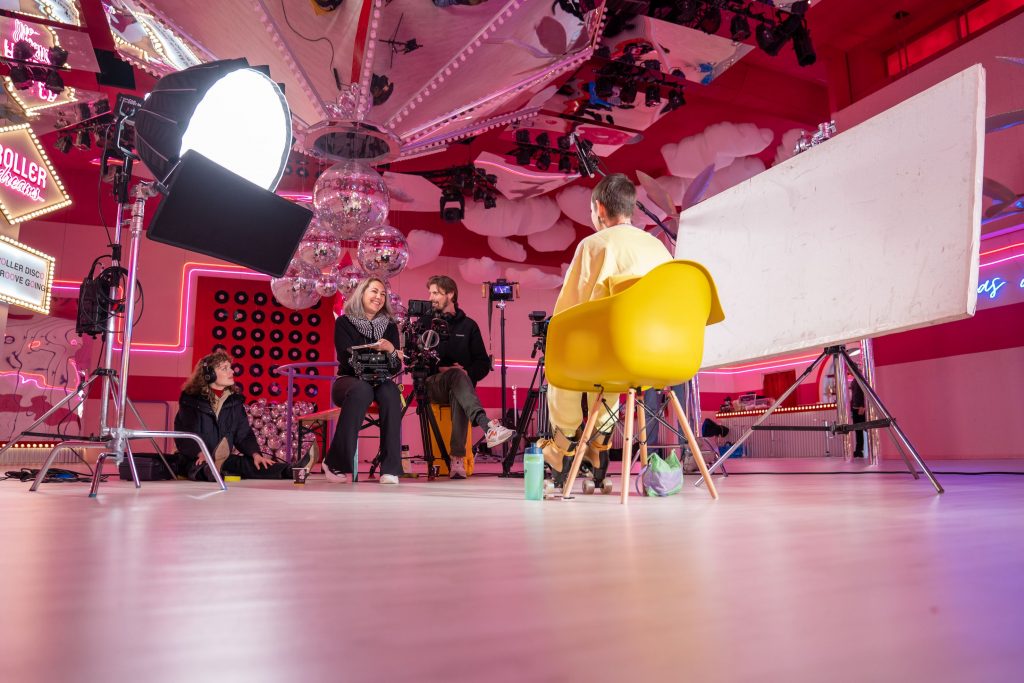 In general you will always want to control every light and add your own to have full control, but if you are working with a small budget, like we were on this project, it is good to know that with existing and a one or two simple lights and or bounce you can create beautiful lit shots.